Week #6 - GSoC Weekly Report - 100 Paper Cuts
GSoC progress for week #6. (first evaluations week)
New icons for diagonal borders
I wanted to add diagonal borders to the table toolbar > borders but realized that LO doesn't have diagonal left and diagonal right borders under ./icon-themes/*/svx/res/*. Then on the LibreOffice Design EN telegram channel, I said that these icons are necessary for tdf#51665. Designers wanted me to open a new report dedicated for the icons, so that Rizal Muttaqin(huge thanks for the icons) could draw them. Diagonal border icons will be added for all themes soon.
UI - add diagonal borders in Table toolbar
Bug: tdf#51665: Support diagonal borders in TABLEs
In order to work on tdf#51665, I added diagonal borders to table toolbar > borders.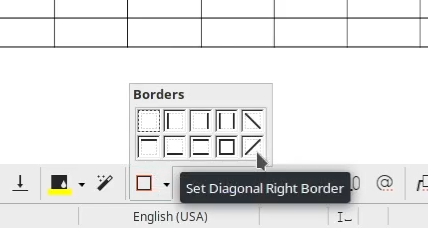 One cell selected (standard view)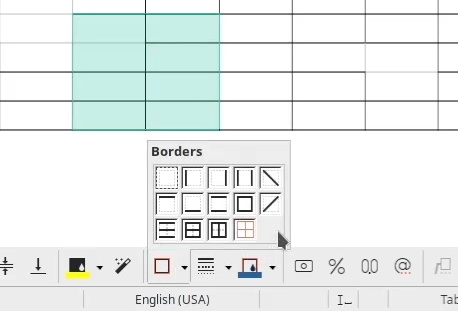 Multiple cell selected
Technical Details
Added tooltip "Set Diagonal Left Border" for diagonal LEFT border.
Added tooltip "Set Diagonal Right Border" for for diagonal RIGHT border.
In include/svx/strings.hrc:
Added diagonal Left and Right borders to the svx/inc/bitmaps.hlst:
fr013.png -> Right Diagonal Border
fr014.png -> Left Diagonal Border
Update for loops and switch cases:
Increased all for loops limits by 2. svx/source/tbxctrls/tbcontrl.cxx:
Updated mxFrameSet->SetColCount( 4 ); to mxFrameSet->SetColCount( 5 );, because column size should be 5 after adding the diagonal borders to the 5.th and 10.th order:
svx/source/tbxctrls/tbcontrl.cxx:
Add them in correct order:
***
Summary of week #6
Next Week TO-DO
Work on tdf#51665: Support diagonal borders in TABLEs